Headboy
My time at the school has been an interesting one, to be Frank, it has been the most eventful part of my life. It was in this school that u virtually grew up and in turn ended up becoming the confident young man I am today.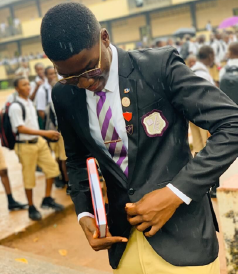 I remember coming to this school in 2014, form one by then; I was full of ambition and had my hope's up for the new school, but little did I know that I was entering a whole new chapter in my life.
The thing that really stood out for me was the fact that our school had what they call "social clubs". These were clubs formed to get the students engaged in their school activities, as we had the science club, art club, the literary and debating society, and all the rest.
Going further in my academic journey, that was in form two, I learned that our school had a proud sporting background. I ended up trying a couple of sports one of which was squash: a tennis-like game that uses slimmer rackets and a rather flimsy black ball. I got so deeply engrossed in the sport that I ended up spending most of my weekends and weekdays practising the sport, even though I was never as good as the others but I had a love for the sport.
Moving on to form three and four, these two years sort of passed me by like a breeze because
I could not remember much from these two years, but what I can say is that they were very defining times in my academic pursuit because it was in form three that I took the second major exam, a national exam at that, the BECE (Basic Education Certificate Examination). In form four we were hastily ushered into the senior section of the school, and it was then that I had to make a choice of my faculty. I remember sitting with my mother to discuss the available options: the science stream, the arts stream, and the business stream. I ended up choosing the science stream, and I will tell you for a fact that it was one of the best decisions I've taken in my secondary school career.
Moving on to form five there was a big turning point in my school life, I was elected as a school prefect. Now I know what you're thinking, it's just another position given to boys in the school, but I assure you that it is way more than that. The school expects all prefects to be the perfect example of what a "Regentonian" should be, a shining light, and a role model to all other pupils. So you could imagine the stress I bore at the time, still young in the mind, still maturing; all this took a role on me mentally as I had to adjust my way of thinking, talking, and my way of life. I had to become less involved in myself and more involved in the school's activities which were quite demanding.
I wasn't quite as involved in extracurricular activities until the second term in form five if my memory serves me right. There were many clubs in the school that I had "participated in" but there was one club that really stood out: the Interact club. The Interact club is a club sponsored by Rotary International that was originally formed to nurture youths in the area of giving back. This sort of caught my eye because I had always wanted to give back to my community, but I never really knew how to. After spending a couple of months in the club, and the last two terms of form five passed by my love for the club grew stronger and on the recommencement of school, the first term of my form six career, a few friends and I saw it fit to take charge of the club.
A month into the term another huge change took place in my life almost by surprise even, I was Alex as the head prefect of the school. At first, it came to me as a shock but I later adapted to fit the role, but I still had my hiccups here and there. The stress alone was able to cripple me and get me down for a couple of weeks, but after some time I was able to deal with the stresses and challenges more comfortable even though I couldn't fully cope and adjust, I still did my best and strived to better myself and become more suited for the position. In the end, I had a very interesting journey through this great school, I grew up here both physically and mentally, had my ups and downs and even had a couple of down days but in the end, it was all worth it because I can now look at myself and say that I have done something to impact my school, and I have now left my mark in the great Grammar School.